THE HANDS-ON COIL PEOPLE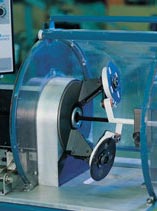 At CMI, we're coil people through and through. CMI was built around a core group of people who grew up in this industry. Founders Randy Rutter and Wendell Herrington started on the production floor, making coils themselves. It's no wonder people here have a knack for answering your questions and solving your problems.
With CMI, you can count on the kind of quality and service you expect – every time. We also understand urgency. When you need us, you need us NOW. And we respond promptly.
CMI is competitive on prices, and consistently delivers quality products. To save you time and money, we talk with you about your customer's needs. Why did the motor fail? Exactly what does it do? How can we improve the winding? Don't be surprised if we ask a lot of questions before we take the job. It's our way of making it right for you.
CMI works with motor repair centers throughout the United States, Canada, Central and South America. We're the hands-on coil people – ready when you need us.